World Building News, Architecture across the Globe, Architectural Designs, Projects
Architecture News
– 20,000 pages + 328,000 architectural images
– cross-referenced resource : building / architect / country / city / type
– architectural news online 16 hours a day, 7 days a week
– google map towards base of page where relevant (note these sometimes default)
e-architect Editor Adrian Welch handpicks key architecture news to post on facebook + twitter
Architecture News
For the latest news see our homepage.
This page shows a selection of picks by the Editors – Isabelle and Adrian – from our daily postings:
Key Building News from around the world – Headlines
Architecture News from June 2017
1 Jul + 30 + 29 Jun 2017
Tower Cladding Samples Fail Fire Safety Tests
137 cladding samples from high rise buildings have now failed fire safety tests carried out on behalf of the UK government by the The Building Research Establishment Ltd (BRE).
EVERY panel tested has failed the government's combustibility tests.
UK Tower Cladding Samples Fire Safety Tests News
Scotland is not included in the current testing regime but the Scottish Government is carrying out a similar review.
The British Government looks to be facing a cladding safety bill of around £600m after the Grenfell Tower fire.
Clearly those involved in the prcourement of UK buildings have focused too much on cost savings and not enough on building safety.
1 Jul + 30 Jun 2017
National Arts Centre Building, Confederation Square, Ottawa, Canada
Design: Diamond Schmitt Architects


photo : Lisa Logan Photography
National Arts Centre Building News
Architecture News from March 2017
26 Mar 2017
St Michael's Manchester Development On Hold


image courtesy of architects
St Michael's Manchester Development News
Manchester City Council has confirmed that Gary Neville and Ryan Giggs have asked for this major city centre scheme to be put on hold.
Speaking at the MIPIM property fair, footballer-turned-developer Neville announced that he had asked the council not to consider the proposal designed by Make Architects so that it could be further refined.
Architecture News from February 2017
Feb 16, 2017
Workforce Housing Buildings, Newark, NJ, USA
Design: Richard Meier & Partners Architects


photo : Scott Frances
Teachers Village in Newark, New Jersey
Completion of three new Workforce Housing Buildings in Newark. These new buildings provide 123 residential units and a variety of retail spaces. Within the Teachers Village project, all of the buildings by this celebrated architecture office have been designed with open interior spaces full of natural light.
16 Feb 2017
Leeza SOHO, Beijing, China
Design: Zaha Hadid Architects


image courtesy of architects
Leeza SOHO
Within the Lize Financial Business District – a new business, residential and transport hub adjacent to Financial Road in southwest Beijing. The new building will be located at the intersection of Lines 14 and 16 currently under-construction for the Beijing Subway rail network.
16 Feb 2017
Eclipse, Amor de Perdição Square, Porto, Portugal
Architect: FAHR 021.3


image courtesy of architects
Eclipse in Porto
The celebratory piece Eclipse marks the 20th anniversary of the classification of the historic centre of Porto as Unesco World Heritage site. A temporary installation, Eclipse is a project by architecture studio FAHR 021.3 who created a sphere that temporarily shifts the centre of the city square towards its gravitational pull.
Architecture News from 2016
One Central Boulevard at Blythe Valley Park, West Midlands, UK
Design: Webb Gray Ltd, Architects
Leading tile supplier Solus Ceramics has added a touch of sophistication to a brand new £5 million refurbishment project with the use of its stylish Hardline collection.
Previously known as The Phoenix Building on IM Properties' Blythe Valley Park, One Central Boulevard offers the largest available floorplates on the M42 corridor. Located in the heart of the UK, this new modern business campus boasts over 113,500sqft of space, which is surrounded by a stunning 122 acre country park.
One Central Boulevard at Blythe Valley Park – 11 Nov 2016
M Victoria Street, London, UK
Design: René Dekker Design Ltd
Leading tile supplier, Solus Ceramics has added a touch of flavour to the new M Victoria Street restaurant in London with the installation of its innovative Concreta, Porcelain Solid Basics, Porcelain Flare and Metaltone floor tile ranges.
M Victoria Street is the second London restaurant venture from Martin Williams, following the success and wide acclaim of M Threadneedle Street in 2014. M Victoria Street is a 9,000 square foot part leisure, part retail venue that has several distinct offerings set over three floors. These include the Grill Dining Room, Raw Bar, both public and private members bars, private dining, event spaces and a wine tasting room, all under one roof.
M Victoria Street Restaurant in London – 10 Nov 2016
Trumpf Poland Technology Center, Warsaw, Poland
Design: Barkow Leibinger, architects


photo : David Franck
Trumpf Poland Technology Center Warsaw Building – 22 Sep 2016
High-grade stainless steel fins cover the façades: they are laser-cut and folded to widen and narrow over their 10-m length. This approach reflects the machine tool and laser technology typical of the client's business.
New School Building in Aabybro, Jutland, north western Denmark
Design: CEBRA architecture / KPF


image from architects
New Building in Aabybro – 20 Sep 2016
The pitched roof is the focus of the architectural expression: its distinctive shape and slanted eaves give a unique appearance without being intrusive. It ensures attractive outdoor spaces for education and play.
Border City Mexico / USA: London Design Biennale
Design: FR-EE Fernando Romero Enterprise


image from architect
Border City Mexico / USA Vision – 11 Sep 2016
This vision is for a binational city on one the border between the United States and Mexico.
The proposal is topical, given current debate following Donald Trump's Mexican wall announcement(!). The concept is rooted in the history of frontiers cities, where cultures both clash, for example Baarle Hertog / Baarle Nassau.
Tree Top Residence, Los Angeles, California, USA
Design: Belzberg Architects


photo : Bruce Damonte
Tree Top Residence – 7 Sep 2016
This three-story contempoorary home emerges above the canopy of trees that surround it. The focus is an eccentrically-helical stair, a highly sculptural gesture visible on entry into the house.
Cal Tech Keck Institute for Space Studies, Pasadena, California, USA
Design: Lehrer Architects


photo : Benny Chan Fotoworks
Cal Tech Keck Institute for Space Studies Building – 7 Sep 2016
This building's design aims to facilitate a culture of creativity where scientists and academics of disparate disciplines from around the world meet periodically, with "orchestrated collisions" generating conversation and creative thinking. The architectural design mitigates scale and style differences between Mission-style bungalow and Modernist, multi-story academic buildings on either side of the road.
AccorHotels Arena Building
Design: DVVD Architecture, Design and Engineering Agency


images : Sergio Grazia
The AccorHotels Arena in Paris – 14 Jun 2016
An emblematic structure in the city, the Palais Omnisports de Paris-Bercy has been revitalised. It will assist the capital in its attempt to host the Olympics in 2024.
Elytra Filament Pavilion by Achim Menges at the V&A, London, England
Design: Achim Menges with Moritz Dörstelmann, Jan Knippers and Thomas Auer


image from architect
Elytra Filament Pavilion in London – 14 Jun + 7 May 2016
V&A to present a site-specific installation inspired by nature and fabricated by robot, part of the museum's first ever Engineering Season.
Venice Biennale Golden Lion Award in 2016


photo © Fernando Maquieira
Venice Biennale Golden Lion Architecture News – 31 + 28 May 2016
Spain has been awarded the Golden Lion for best pavilion at the Venice Architecture Biennale 2016, for the exhibition 'Unfinished' ; Gabinete de Arquitectura has been awarded the prize for best exhibition.
This is the second Golden Lion of Spain at La Biennale di Venezia. The first one was obtained in 2000, in an exhibition curated by architect Alberto Campo Baeza.
The Winery at VIK, Vitacura, Santiago, Chile
Design: Smiljan Radic, architect


photo courtesy of Vik Retreats
The Winery at VIK Building – 19 Jan 2016
As all Vik Retreat destinations have come to be known, the VIK winery features a unique and unprecedented design, which is at once state-of-the-art, highly sustainable, technologically creative and a stunning visual display which redefines the wine experience. The winery has been designed by the talented Chilean architect Smiljan Radic.
Architecture News from 2015
Oliv Commercial Building, Hong Kong
Design: THEO TEXTURE Architects


photograph from architects
Oliv Building
The Gamble House in Pasadena Celebrates Milestone


photo : Alexander Vertikoff
The Gamble House by Charles and Henry Greene – 24 Dec 2015
January 14, 2016 is the 50th Anniversary of the gift of this celebrated American residence from the Gamble family to the City of Pasadena and the University of Southern California.
The Castlereagh Apartments, Sydney, NSW, Australia


image from architects
The Castlereagh Apartments – 23 Dec 2015
This residential building has facades characterised by winter gardens. The design balances openness and solidity. Most of the façade is clad in adjustable metal louvre screens in a copper tone, providing shading and screening balconies.
Grimshaw's first commercial building in Melbourne rises 64m above rail environment
Architects: GRIMSHAW


photograph : John Gollings
Grimshaw's first commercial building in Melbourne15 Dec 2015
The building is the new office of AGL Energy Limited, designed to accommodate 1500 employees. The building is part of the Southern Cross Station Master Plan designed by Grimshaw in association with Jackson Architecture, 699 Bourke Street provides a connection between the CBD and the Docklands precinct.
160 Leroy Apartment Building in The West Village, New York, USA
Design: Ian Schrager & Herzog & de Meuron


image from architects
160 Leroy Apartment Building in The West Village
A New International Style for Residential Living and What Could Be The Last Opportunity To Own A New Home On The Water In The West Village
Red Road Flats Demolition News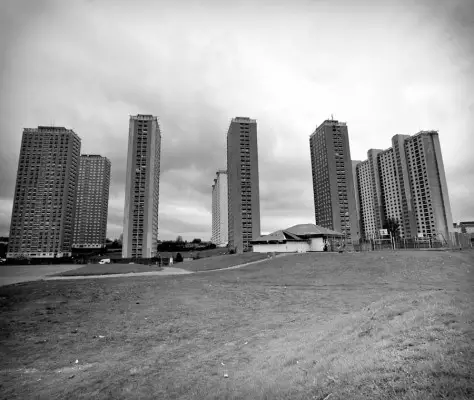 photo © Tom Manley
Red Road Flats Demolition – 11 Oct 2015
Botched Demolition Of Glasgow Towers Leaves Two Of The Six Buildings Standing.
Back in April 2014 Commonwealth Games organisers dropped the demolition of the Red Road flats from the Glasgow 2014 opening ceremony.
Five of the blocks were to be brought down at the start of the Games in July. The plan proved controversial, with an online petition against the demolition gathering more than 17,000 signatures.
Zinc House in Lymington, England
Design: OB Architecture


image from architects
Zinc House in Lymington – 29 Sep 2015
photograph : Martin Gardner, martingardner.com
The architects were "given the kind of brief most young aspiring practices dream of: to design a contemporary house in a wonderful location overlooking the sea. The twist here was that the house had to be highly accessible whilst avoiding the 'institutionalised' feel that many homes for people with impaired mobility occasionally suffer from."
Young Street Campus for Anglia Ruskin University, Cambridge, England
Design: Richard Murphy Architects


photo from architects
Young Street Campus Buildings – 28 Sep 2015
Richard Murphy Architects has completed the final phase of development at Anglia Ruskin University's new Young Street Campus in Cambridge.
Architecture News from 2014
Triumph Pavilion Exhibition


Dream Pavilion
ArchTriumph – Triumph of Architecture & Design Triumph Pavilion 2014: Dream Pavilion by IPT Architects
Sponsor: ArchTriumph
Exhibition (During the London Festival of Architecture): 05 June – 30 June 2014
Location: Museum Gardens, Cambridge Heath Road, Bethnal Green, London E2 9PA
Entry: Free Admission
Opening Times: Gardens open daily
Mariners Harbor Library, Staten Island, New York, USA
Design: A*PT Architecture


photograph : Naha Kubota
Mariners Harbor Library – 3 Jun 2014
The newest branch of the New York Public Library is located on Staten Island. The firm was commissioned for this 10,000 square-foot project by the Department of Design and Construction of the City of New York (DDC). LEED Silver pending, the building received a 2009 Award for Excellence in Design from the New York City Design Commission.
JustWood House, Santa Maria de Palautordera, Barcelona, Catalonia, Spain
Design: Alventosa Morell Arquitectes


photograph : Adrià Goula
JustWood House – 3 Jun 2014
The bioclimatic study of this exact site is crucial to decide the strategies to follow in this design, in order to improve the comfort of the dwelling and to achieve the energy demands to be a passivhaus.
e-architect news
14 May 2014 – Thanks to our readers! 200,000+ likes on e-architect facebook plus over 300,000 followers across our social media
e-architect has recorded 2 million hits in one day for the first time this week – 21 Mar 2014. Our twitter followers has just passed 50,000 and our facebook followers now number more than 160,000. In total we have over 260,000 followers across our various social media channels. Thank you for your support and interest as we grow our global architecture resource!
Bukit Timah House in Singapore – 19 May 2014
Design: Wallflower Architecture + Design


photograph : Marc Tey Ge Wai
This house sits on high ground, and the rear of the site has wonderful views overlooking the greener and more affluent residential addresses in Singapore. Our client's brief was to design a home of two stories, with an attic, and importantly a roof terrace facing the rear and overlooking the valley.
Opening of National September 11 Memorial Museum Pavilion
Design: Snøhetta


On May 15, 2014, President Obama will be present for the dedication of the National September 11 Memorial Museum & Pavilion at the World Trade Center site. The Pavilion and Museum will open to the public for the first time on May 21, 2014.
In 2004, SNØHETTA was commissioned to design the only building on the memorial plaza. In the years since, the program has changed several times, however it has remained a cultural facility dedicated to visitor comfort and orientation.
New Istanbul Airport Building


image from architects
New Istanbul Airport Building – 15 Apr 2014
The Istanbul Grand Airport will be a modern and highly functional, with a unique sense of place. The architectural design of the terminal is closely linked to the area's unique character and will act as a stunning gateway to Istanbul and Turkey. In spite of its size, the terminal building is conceived as one that sits calmly in its context, with a clear horizontal expression.
Casino de Montréal, Quebec, Canada
Design: Menkès Shooner Dagenais Letourneux Architects / Provencher Roy Architects


Casino de Montréal Building – 4 Apr 2014
The consortium of Menkès Shooner Dagenais Letourneux Architects / Provencher Roy Architects have signed an important retrofit project of the Casino de Montréal.
House of Music


photograph © Hélène Mogensen de Monléon
e-architect attended the opening event for House of Music in Aalborg, Denmark, designed by COOP HIMMELB(L)AU, and talked with leading architect Wolf Prix about the building – new photos + review. 30 Mar
City of Dreams
Design: Zaha Hadid Architects


image courtesy Zaha Hadid Architects
City of Dreams Hotel Tower – 29 Mar 2014
The fifth hotel tower at City of Dreams combines dramatic public spaces and generous guest rooms with innovative engineering and formal cohesion. The rectangular outline of the site is extruded as a monolithic block with a series of voids which carve through the its centre of the tower, merging traditional architectural elements of roof, wall and ceiling to create a sculptural form that defines many of the hotel's internal public spaces.
Barrel House Tavern in Sausalito
Design: CCS Architecture


photo : Paul Dyer, from CCS Architecture
Barrel House Tavern – 22 Mar 2014
CCS Architecture receives a IIDA Northern California Chapter Honor Award for this building. Located on one of the most scenic waterfront lots in Sausalito, the restaurant features an enormous Carrera marble bar, with breathtaking views of the Bay. The building itself has a rich history: built in the 1900's, the space was once a ferry terminal, before the opening of the Golden Gate Bridge.
551W21 New York by Foster + Partners


photo: © Michael Moran/OTTO
551W21 Building – 20 Mar 2014
Scott Resnick and Brown Harris Stevens open the sales office for 551W21, the new 19-story luxury condominium in West Chelsea by architects Foster + Partners. Designed by Lee Mindel of Shelton, Mindel & Associates, the sales office meticulously presents the signature interior elements of Foster + Partners' building design.
Alberto Campo Baeza News


photograph from Estudio Arquitectura Campo Baeza
The architect Alberto Campo Baeza has been elected as a member of the San Fernando Academy of Fine Arts.
Alberto Campo Baeza has been Professor of Design Projects at the ETSAM School of Architecture in Madrid since 1986 and is an architect of great renown, both in his native Spain and worldwide. He has been visiting professor at the ETH in Zurich, the EPFL in Lausanne and at the Penn University School of Architecture in Philadelphia, as well as at numerous other schools of architecture around the world.
Sustainable Floating Residence


The Floating house was designed for French developer H2ORIZON, that specialize in construction of floating structures, by Singapore-based architect Dymitr Malcew.
The main goal of the project was to design a house that impacts surroundings in a most minimal way, but at the same time offers flexibility and out of the box living experience.
Architectural News : selected buildings from around the world
shown recently on the architectural news page
Recent Architecture News
Architecture News
2014 Melbourne Food and Wine Festival
New images of The Immersery: Festival Kitchen, Bar and Raingarden


photograph : Bonnie Savage
Melbourne Food and Wine Festival Hub – 4 Mar 2014
A cloud-like structure suspended above a floating bar and open-kitchen restaurant on the banks of Melbourne's Yarra River form the spectacular centrepiece of the 2014 Melbourne Food and Wine Festival.
Jan Shrem and Maria Manetti Shrem Museum of Art, Davis, California, USA
Design: SO – IL


image from architect
Jan Shrem and Maria Manetti Shrem Museum of Art – Mar 1 2014
New York-based architectural design studio SO – IL announces the groundbreaking for this new museum of art at the University of California in Davis. Designed in a design-build partnership with Bohlin Cywinski Jackson and Whiting-Turner, the building design advances the fundamental notion of the art museum in the 21st century.
Oceanfront House in Crimea, Ukraine
Design: Robin Monotti Architects


photo : Ioana Marinescu
Seafront House in Crimea – 1 Mar 2014
RMA won 1st prize in the competition for the best interior design project in the modern style in Ukraine 2013 with their project Yacht House. The architectural competition was organized by the Dom i Interier magazine and received 965 entries.
A House Vaucluse, Sydney, New South Wales, Australia
Design: Bruce Stafford Architects


photo © Karl Beath
House in Vaucluse – 19 Feb 2014
This home is situated on a narrow site with waterfront at one short end and parkland along the long northerly side. The prime design generator was to frame the various view opportunities from the moment one arrived off the street, by creating a range of different spaces, all connected to a central vertical and horizontal circulation spine on the long axis of the site. This resulted in a series of courtyards and volumetric experiences until arriving at the edge of the infinity pool.
House LS, Belgium
Design: dmvA


photo © Frederik Vercruysse
Wemmel Residence – 19 Feb 2014
The municipality of Wemmel, situated on the outskirts of Brussels, is well known for its green areas with their monumental villas of the upper class. After a search of several years, the principal saw a house situated in one of those quarters. It was not his dream house but because of its marvellous location and the south orientated garden, he decided to buy it.
DC Tower 1
Design: Dominique Perrault with Hoffmann and Janz


photo © Michael Nagl
DC Tower Vienna – 11 Feb 2014
With its 60 floors this tower is the tallest building in Austria. The renowned French architect Dominique Perrault is responsible for the spectacular architecture with an extraordinary 'folded' facade. The building has slender proportions: a height of 250m, a width of 28m (average) and a length of 59m.
Residential Building in Berlin by Frank Gehry
Design: Gehry Partners, LLP


image : Gehry Partners, LLP
Residential Building in Berlin by Frank Gehry – 10 Feb 2014
A design by Frank Gehry, the architect responsible for the Guggenheim Museum in the Spanish city of Bilbao, will be used for a building on Berlin's Alexanderplatz that will be Germany's tallest apartment tower, reports Bloomberg. The 39-floor property will have a height of 150 m (490 ft) and contain about 300 apartments, a hotel and a spa, Hines said today in a statement.
Madrona House
Design: CCS ARCHITECTURE


photograph : Aaron Leitz; Seattle, WA
Madrona House in Seattle – 8 Feb 2014
This house was designed as a second home for a Bay Area couple as a summer retreat to spend the warm summer months away from the fog in San Francisco. Built on a steep slope and a narrow lot, this 4000 square foot home is spread over 3 floors, with the master, guest and kids bedroom on the ground floor, and living spaces on the upper floor to take advantage of the views.
Goodwood Residence in Singapore
Design: WOHA


photo : Patrick Bingham-Hall
Goodwood Residence Singapore – 1 Feb 2014
Set amidst an enclave of black and white houses just off the prime Orchard/Scotts Road area, and against a verdant 20-hectare backdrop of greenery, the 210-unit Goodwood Residence is conceived on a macro scale as a breathing space – a rarity in high density urbanised Singapore – and an extension of the Goodwood Hill tree conservation area that it shares a boundary of 150m with. Articulated as two 12-storey L-shaped blocks, the 2.5-hectare development 'dialogues with the hill'.
Reforma Towers México City
Design: Richard Meier & Partners Architects


image : Richard Meier & Partners Architects
Reforma Towers
Richard Meier & Partners is proud to announce their new project in Mexico City. The new Reforma Towers will become a dynamic mixed-use development composed of two towers with offices, a hotel, retail space, restaurants and a fitness center.
Honeycomb Building in the Bahamas
Design: BIG + HKS + MDA


image : BIG
Honeycomb Building Bahamas – 27 Jan 2014
BIG + HKS + MDA have unveiled the design for the new Honeycomb building and its adjacent public plaza in The Bahamas – a 175,000 ft² (ca. 16,000 m²) residential building with a private pool on each balcony overlooking the marina.
World Architecture Festival news : World Building of the Year Award
Zaha Hadid building news : Heydar Aliyev Centre, Baku, Azerbaijan – photos
Recent Architecture Articles
Original content on e-architect – Recent Archive:
Low-cost Housing for the Elderly


image © Herzog & de Meuron, Basel, 2008
13 Oct 2013 by Joel Solkoff
Joel Solkoff looks at housing access issues, from the low proportion of housing that is wheel chair accessible to the requirement of elderly individuals to spiritually uplifting laces such as museums.
Morgan Library and Museum Disability Architecture
re Disability Access in Renzo Piano's J.P. Morgan Library and Museum Building, New York City, USA


photo © Renzo Piano Building Workshop. Courtesy Gagosian Gallery
24 Aug 2013 by Joel Solkoff
When I began this column I wrote: "The future of architecture is rapidly requiring you to redesign the world to meet the requirements of the largest generation in world history. Ours is an aging population in the process of developing disabilities–but a generation with the determination, education, political clout, and for many the wealth to live independently none-the-less."
Architecture Articles for e-architect


photo by Michel Denancé, provided by permission of the Morgan Library and Museum
Architectural News – Archive
Architecture Walking Tours


photo © Joe Lekas
Sustainable Architecture news : Carbon Emissions Rise – radical plan required
Architecture
Architecture Studio Profile : Norton Ellis Architects
"After just a few weeks listed on e-architect we were contacted by a new client for a residential refurbishment. The project suits us perfectly, I was amazed how the website created a new project so soon for us. I'm delighted that we signed up with e-architect, which we should have done sooner." Robert Ellis, architect
We feature selected buildings below that have recently appeared on the Architecture News. A wider selection of new buildings can be found in the monthly architectural news pages. We try to choose major buildings / designs that have created the most interest for our readers. Buildings can be located anywhere in the world and don't have to be contemporary – major building refurbishments and architectural redevelopments are also welcome.
Buildings for the World Architecture News page welcome: info(at)e-architect.co.uk
Global Architecture News – page