World Building News, Architecture Information, Design Developments, Images, Projects
Architectural News
Architectural Designs – Global Updates – Recent Building Developments
Recent Architectural News
On this page e-architect selects the key recent architectural news items from recent months up to the previous week. We feature selected buildings below that have recently appeared on the architecture news page. A wider selection can be found in the monthly architectural news pages. We try to choose major buildings / architectural designs from around the world that have created the most interest for our readers.
27 Jan 2014
Entry for the WKCDA Arts Pavilion Design Competition
Design: XML Amsterdam


image from architects
Entry for the WKCDA Arts Pavilion Design Competition
For the West Kowloon Cultural District competition in Hong Kong, XML designed a new Arts Pavilion. By reimagining the classical Miesian pavilion typology of a glass box and roof, the XML proposal sets out to create a pavilion that offers two distinct types of exhibition spaces. Under a large canopy, a glass-enclosed box offers a 4.5meter high unobstructed space, that can be adapted to an infinite amount of layouts for the exhibition of painting, sculpture, video, photography and other media.
LA Union Station Master Plan enters final stage
Design: Gruen Associates with Grimshaw


image : Grimshaw
LA Union Station Master Plan – 28 + 27 Jan 2014
The Metro Board of Directors Planning and Programming Committee has unanimously approved the team of Grimshaw and Gruen Associates to begin the third and final phase of the new LA Union Station Master Plan.
Abedian School of Architecture
Design: CRAB Studio – Sir Peter Cook and Gavin Robotham, London


Abedian School of Architecture – 8 Jan 2014
photo from architects
Educational Building for Bond University in Queensland: the Abedian School of Architecture is located on the campus designed in the 1980s by Arata Isozaki. It forms part of the Faculty of Architecture and Sustainable Design. Winning the competition in January 2011, CRAB was awarded the contract and the building was completed in 2013.
Doha Architecture Photographs
More building images by Pygmalion Karatzas:


photograph © Pygmalion Karatzas
Doha Architecture Photos – 6 Jan 2014
In this exclusive report by Greek architectural photographer Pygmalion Karatzas we bring you the most interesting new buildings in Doha, Qatar. Recently in the news worldwide for issues surrounding FIFA 2022 World Cup the country is buoyant like many on the Gulf. There is a wide range of new buildings, not just the obligatory 'aren't we doing well' skyscrapers but also museums, parks and galleries.
Joel's Column Vol. II, Number 1
If I was an architect set to launch my career in the U.S.A. I would focus on three states:
Texas, California, and Florida


photo : The Crescent a 1938 Art Deco hotel, Henry Hohauser architect, photo courtesy of the City of Miami Beach, Florida
Joel's Column for e-architect – Jan 6, 2014
Despite the incredibly exciting renewal taking place in New York City, the reality is that the wealth and power in the United States has shifted. The wealth and power in the U.S. now resides in the West and in the South. With that shift has come opportunities for architects in such states such as Texas, California, and Florida.
Major Buildings from 2013 – completed
our tip, pictured – Emporia, Malmö, Sweden – designed by Wingårdhs


photo : Tord-Rikard Soderstrom
Buildings from 2013
21 Dec: e-architect have selected some key buildings and designs from 2013.
Our parameters? Architecture that stimulates, buildings that question, designs that show innovation.
Major Building Designs from 2013 – on the 'drawing board'
our tip, pictured – 520 West 28th Street New York – designed by Zaha Hadid Architects


image from architects
Building Designs from 2013
Open International Contest for the historical center of Kaliningrad
Kaliningrad Design Competition – 27 Jan 2014
Announcement of the open international competition for architectural and city planning concept of area development in the historical center of Kaliningrad. Noncommercial partnership 'City-Planning Bureau 'The Heart of the City' under instructions of the Government of Kaliningrad region and in association with the administration of municipal entity 'Urban district 'The city of Kaliningrad' announces an open International architectural and city-planning competitive tender for the Concept of area development in the historical center of Kaliningrad (Korolevskaya mountain and its locality).
WKCDA announces the results of the Arts Pavilion Design Competition
Design: VPANG architects ltd + JET Architecture Inc + Lisa Cheung


image from architects
The West Kowloon Cultural District Authority (WKCDA) have announced that VPANG architects ltd + JET Architecture Inc + Lisa Cheung, have been appointed to design the Arts Pavilion in the West Kowloon Cultural District, after achieving first prize in a single stage international design competition.
Heathrow's new Terminal 2
Design: Luis Vidal + Architects (LVA)


Heathrow Terminal 2 exterior, CGI, LHR Airports Limited
Heathrow New Terminal 2 – 21 Jan 2014
Undulating steel-framed roof controls flow of natural light making Terminal 2 Heathrow's most sustainable terminal yet. Terminal 2 is one of the UK's largest privately funded construction projects and has provided jobs for approximately 35,000 people.
The £2.5 billion development has taken five years to complete and includes the main Terminal 2 building, a monumental new sculpture inspired by the world of aviation by internationally-renowned artist Richard Wilson RA, a 1,340-space car park and an energy centre and cooling station.
New Aspen Art Museum Building, Colorado, USA
Design: Shigeru Ban Architects


photo from AAM
New Aspen Art Museum – 11 Jan 2014
The new facil­ity will be located at the cor­ner of South Spring Street and Hyman Avenue in down­town Aspen.
In 1979 the Aspen Art Museum opened its doors at the ren­o­vated Holy Cross Power Plant on the banks of the Roaring Fork River. For 33 years that facil­ity has served the mis­sion of the orga­ni­za­tion well, fos­ter­ing a pro­gram of art, dia­logue, and cre­ativ­ity that has grown into a major cul­tural insti­tu­tion serv­ing Aspen, the Roaring Fork Valley, the region, and the world.
Developers Announce Name and Exclusive Broker Of New Skyscraper In Miami Being Designed By Zaha Hadid, Florida, USA
Design: Zaha Hadid Architects


image from architects
One Thousand Museum in Miami – 7 Jan 2014
Internationally renowned for her revolutionary designs of buildings in premier cities worldwide, including Beijing, Abu Dhabi, Rome, and London, Zaha Hadid was the developers' first choice for One Thousand Museum. "Miami has become a truly global city and we wanted to work with someone who has the vision to create an architectural icon that will capture its unique character," said Birdman and Covin in a joint statement. "Zaha Hadid is a visionary. The buildings she designs not only make headlines worldwide, but also garner critical acclaim and promise to be in history books for generations to come."
Residential Building ZugSchleife, Switzerland
Design: Valerio Olgiati, architect


photo © Javier Miguel Verme
ZugSchleife – 21 Jan 2014
Seen from a distance the floor plates projecting from the facade with their elliptical openings look like flying carpets with ornamental borders. For the residents these elliptical openings generate a sense of distance, since they prevent neighbours from seeing into each other's apartments.
Vegamar Selección Wine Shop, Villareal, province of Castellón, eastern Spain
Design: Fran Silvestre Arquitectos


photo : Diego Opazo
Vinoteca Vegamar Selección – 21 Jan 2014
Vegamar Selección Wine Shop, located on the main shopping street of town, is a space for wine tasting and sales. The project aims to transmit the quality of the exposed products, as well as to maximize the feeling of amplitude inside the shop.
CupOne Cafe, Wangjing, Beijing, China
Design: LATITUDE, Architects


photograph from architects
CupOne Cafe Beijing – 21 Jan 2014
Coffee shops, restaurants, libraries and the likes became indubitable extensions of our own place. In this particular occasion, LATITUDE has been commissioned to explore the possibilities of combining the functions of a standard coffee shop settlement with the idea of public visual art.
Aquaterra Environmental Centre, Billy-Montigny, Pas-de-Calais, northern France
Design: Tectoniques Architects


photograph : Julien Lanno
Aquaterra Environmental Centre – 15 Jan 2014
After a call for ideas addressed to the local residents, the Maison de l'Environnement et du Développement Durable (Centre for the Environment & Sustainable Development) of the Hénin-Carvin Joint Urban Authority adopted the name Aquaterra. The facility is in the middle of a large park on the site of the former Drocourt coking plant. Founded in 1925, this was one of Europe's largest coke production plants.
Five Architectural Firms Short-Listed for Design of Vancouver Art Gallery's New Home
Vancouver Art Gallery Building – 11 Jan 2014
The Vancouver Art Gallery has short-listed five architectural firms as finalists for the design of its new home in downtown Vancouver. Selected from a pool of 75 firms representing 16 countries, the finalists include Diller Scofidio + Renfro (New York), Herzog & de Meuron (Basel), KPMB Architects (Toronto), SANAA (Tokyo), and Tod Williams Billie Tsien Architects (New York).
Problems for Valencia City of Arts and Science Building by Calatrava


photograph © Paul Zanre
City of Arts and Science Building – 7 Jan 2014
Santiago Calatrava is facing legal action from his native city as the dazzling City of Arts and Sciences complex begins to fall apart just eight years after inauguration, reports the Daily Telegraph. The City of Arts and Sciences in Valencia, inaugurated eight years ago, is already falling apart and regional authorities have said they will sue the architect responsible. In late December chunks of the mosaic façade of the centerpiece opera house fell off in high winds and authorities were forced cancel scheduled Christmas performances and to close the building to the public until further notice.
Glavovic Studio Designs Young at Art Museum Broward County Library, Florida, USA
Design: Glavovic Studio Inc and AECOM


photo : AECOM
The Young At Art | Museum – 19 Dec 2013
Glavovic Studio and AECOM have designed a new building for The Young At Art | Museum
Broward County Library in Davie, Florida. Conceived as infrastructure and landscape, the LEED Gold Certified building is the first museum and the first children's museum to achieve LEED Gold Certification ranking in Florida and is one of only three children's museums to be LEED Gold certified in the United States. The building has recently won the Urban Land Institute (ULI) Southeast Florida/Caribbean 2013 Vision Awards Project of the Year.
Shanghai Flower Garden Square
Design: Santiago Parramón, RTA-Office, Architects


image from architects
Shanghai Flower Garden Square – 18 Dec 2013
identifies itself with space and three-dimensional continuity. There are no elevations, no plans, or sections. This is space within solid objects. The genesis of the concept is based on a proposal that is more volumetric than linear, creating spaces in front of creating shapes. Unexpected spaces that enhance human life experience and seek to seduce the sensitive side, the emotional response.
FAT announces the end of its practice


photo © Rob Parrish
FAT – 16 Dec 2013
The highly successful 23 year collaboration will culminate next summer with the completion of A House For Essex, designed for Living Architecture (in collaboration with artist Grayson Perry), and the curation of A Clockwork Jerusalem at the British Pavilion as part of the 2014 Venice Biennale (in collaboration with Crimson Architectural Historians and Owen Hatherley).
La Passerelle in Trévoux, near Lyon, southern France
Design: Pierre Vurpas et Associés Architectes


photograph © Studio Erick SAILLET
La Passerelle in Trévoux – 16 Dec 2013
A stone pebble cut like a diamond, a mineral forecourt that reaches out to draw in passers-by, a glass facade like an ever-changing skyscape, gilded like copper, words from the old French dictionary engraved into the glass panels, illuminated by curtains of woven metal: La Passerelle, a new cultural space for Trévoux, slots into the gap next to the hospital like a missing piece of the puzzle creating a perfect blend of history and contemporary architecture.
New Maritime Museum and Exploratorium in Porsgrunn, Norway – building opening news
Design: COBE + TRANSFORM


photograph : Rasmus Hjortshoj
Museum in Porsgrunn – 13 Dec 2013
Alexandra Residence, Mile-Ex, Montréal, Quebec, Canada
Design: NatureHumaine


photo : Adrien Williams
Alexandra Residence – 12 Dec 2013
The client's priority was to maximize the natural light in their new live/work house in Montreal's Mile-Ex district. This was made challenging by the east-west orientation of the infill lot. However, our design fills even the core of the house with light through the implementation of a 2 storey light-well which runs the length of the southern side of the house. Additional light is reflected into this light-well by the client's office space – a white volume that sits atop the northern edge light-well.
schmidt hammer lassen architects wins library competition in China


picture © schmidt hammer lassen architects
Ningbo Library Building – 9 Dec 2013
schmidt hammer lassen architects has been announced 1st place winner in the competition to design a 30,000 square metres central library in Ningbo, China. Located in the heart of Ningbo New East Town the new library sits on the edge of a new ecological wetland area which will form a new cultural hub of the city. With its open and accessible design the winning proposal makes it possible to display the library's collection of more than 2 million books and double the number of daily visitors.
Estadio Pasaron, Pontevedra, Spain
Design: ACXT / Idom


photograph : Héctor Santos-Díez
Pasaron Stadium Building – 9 Dec 2013
Heated conservatory at the Botanical Gardens, Aarhus


photograph : Quintin Lake
Transparent roofing made of ETFE foil cushions with an interior pneumatic shading system planned by formTL and C. F. Møller Architekten. The new tropical conservatory at the Botanical Gardens in Aarhus is like a drop of dew in its green surroundings. Its transparent dome set on an oval base extends the existing greenhouse built in 1969. A special feature of this structure is that is allows for the greatest interior volume with the lowest possible surface area, leading to high energy efficiency.
Ma Yansong Featuring 'Nanjing Zendai Thumb Plaza' in BI-City Biennale of Urbanism\Architecture 2013 in Shenzhen


image from architects
9 Dec 2013 – Ma Yansong presents its work, ' Shanshui Experiment Complex' in the Border Warehouse of BI-City Biennale of Urbanism\Architecture 2013 in Shenzhen. This is an artwork in-between architecture model and landscape installation, created based on MAD's latest project, 'Nanjing Zendai Thumb Plaza'. The total area of this urban design project is about 600,000 sqm and it is expected to be completed in 2017.
OMA completes De Rotterdam


image courtesy of OMA; photography by Michel van de Kar
De Rotterdam, a mixed-use, 160,000m2 slab-tower conceived as a 'vertical city' on the River Maas, has been completed.
Air Traffic Control Center (ATCC), Slovenia
Design: SADAR + VUGA


photograph : Miran Kambic
New Air Traffic Control Center at the Ljubljana airport
Largo da Devesa City Square and Cultural Center in Castelo Branco, Portugal
Design: Josep Lluís Mateo


photo © Adrià Goula
Cultural Center in Castelo Branco – 5 Dec 2013
Green light for Broadway Malyan's landmark Chinese scheme for CITIC
Design: Broadway Malyan


image from architects
Hefei ID Mall – 5 Dec 2013
Planning approval has been secured for the Hefei ID Mall, a 170,000 sq m retail and office development featuring a 150 m tower, in Hefei, eastern China, designed by global architecture, urbanism and design practice Broadway Malyan.
Architectural News – October 2013 : Global Building at a glance
We limit the number of projects on the page, if you wish to find older key buildings then please use the search facility, or search using the architecture /architects links (left navigation), or use the sitemap to locate buildings by the monthly news. A selection of the major buildings are gathered in a yearly collection, the ones for 2013 + 2012 are linked at the base of this page.
St Peter's College, Cardross, Helensburgh, Scotland – news
Heritage Lottery Fund award to resuscitate one of Europe's greatest modernist buildings


photograph © James Johnson, March 2008
Major St Peter's College Cardross – 5 Dec 2013
Leading public arts organisation NVA's ambitious campaign to raise £7.5 million to resuscitate one of Europe's greatest modernist buildings, St Peters Seminary, has been given a substantial boost, with a first-round pass from the Heritage Lottery Fund. The award will release £565k development funding leading to a second stage submission for £3 million in 2015.
Piedmont Residence, Blue Ridge Mountains, North Carolina, USA
Design: Carlton Architecture + DesignBuild


photograph : David Dietrich Photography
Blue Ridge Mountains House
Located in the foothills of the Blue Ridge Mountains, the residence lies along the southern edge of a hillside overlooking a mountain lake and expansive views beyond. The design of the home sought to sensitively root and connect it to its place, enhancing the owners' ability to experience all aspects of the land and the home together.
Harvard Art Museums, Cambridge, Boston, MA, USA
Design: Renzo Piano Building Workshop


photograph Courtesy of the Harvard Art Museum ; photographer : Harvard Art Museum
Harvard Art Museums Renovation
Photographs showing progress on this building by RPBW.
Roominaroom, Limehouse, east London, UK
Design: atmos


photo from architects
Roominaroom – a highly sculptural refurbishment of a Limehouse (London) flat – all done with a CNC-carved kit of timber parts. It has recently won a UK Wood Award in the Small Project category.
Part III: Implementing Renzo Piano's Creative Plan

Morgan Library and Museum Disability Architecture
25 Nov 2013 by Joel Solkoff
How do you excavate into New York City's famously hard Manhattan schist to construct a 299-seat auditorium underground? The answer is here in the next episode of the exclusive www.e-architect.co.uk series.

photo © Renzo Piano Building Workshop. Courtesy Gagosian Gallery
The series details how Pritzker-prize winning architect Renzo Piano's work goes from Creative Vision to Completion. This process Piano himself describes as "a miracle." The series focuses on New York City's Morgan Library and Expansion, Piano's first New York City project—a series evolving into a discussion of other Piano projects and lessons architects can learn from the work of individuals widely-regarded as among the most excellent in their profession.
F.3 Fellbach aquatic centre, near Stuttgart, Germany
Design: 4a Architekten


photograph © David Matthiessen
Aquatic Centre Fellbach
A place for the whole family to come and bathe – the new F.3 family and recreational aquatic centre in Fellbach has something to offer everyone. The combined baths were opened on 15th September 2013. 4a Architekten have transferred the three separate areas – the sports area with indoor pool and open-air pool, the adventure pool and the sauna world – into a flowing form that gently blends into the landscape and picks up on regional aspects in both shape and design.
VUC Syd Education Centre, Denmark
Design: AART architects + ZENI architects


photo : Adam Mørk
VUC Syd Education Centre
The new education centre for VUC Syd in Haderslev, Denmark, has no traditional classrooms. Instead, it appears as a vibrant and visually engaging educational environment, in which group areas, presentation spaces, dialogue cubicles and quiet zones allow for a more diverse approach to education.
Al Bahr Towers, Abu Dhabi, UAE – new photographs
Design: Aedas


photo : Christian Richters
Al Bahr Towers Abu Dhabi
These twin tower buildings were recently crowned as the 'Best Overall Project in the Middle East' as well as the 'Commercial Project of the Year' at the sixth annual Middle East Architect Awards 2013
Google Madrid Headquarters, Spain
Design: Jump Studios


photograph : Daniel Malhão
Google Madrid HQ
The extensive fit out and refurbishment of Google's Madrid HQ sets new standards in office interior design on the Iberian peninsula. Jump Studios, a London based architecture practice with a recently launched satellite office in Lisbon, has completed Google's new Madrid office using advanced materials to deliver a highly sustainable and inspiring new workplace for the company's Iberian operations.
Doha Building Photographs, Qatar
New architecture images by Pygmalion Karatzas for e-architect


photograph © Pygmalion Karatzas
Doha Building Photos
In this exclusive report by Greek architectural photographer Pygmalion Karatzas we bring you the most interesting new buildings in Doha, Qatar. There are some great architects working in the the country, including Arata Isozaki, I.M. Pei, Jean Nouvel, Legorreta + Legorreta, NORR and Allies & Morrison architects.
Monumental shifts/New World Orders – article for e-architect by Brian Carter, Buffalo, NY, USA


photograph : Hufton + Crow
Monumental Buildings
This newsletter highlights monuments that define distinct shifts and clearly assign architecture as a marker of new world orders. Extraordinary images of completed buildings in Baku and Turkey, Taiwan, Panama, Padua, Leeds, New York and Moscow, are placed alongside promises of others that are yet to come in Stockholm and Glasgow. Many suggest that the monument is a vital part of the definition of modern architecture in the new international style of the 21st.century.
New Spanish Property, Madrid, Spain
Design: Fran Silvestre Arquitectos


photo : Diego Opazo
Aluminium House Madrid
A consolidated landscape surrounded by gardens with big trees within the metropolis of Madrid is the fortunate starting point of this house. The piece, of metallic and horizontal nature, produces the effect of having just one storey. With its proportions and materiality it both contrasts and blends with the tall trees of its environment.
EcoBuilding, Porter School, Tel Aviv University Campus, Israel
Design: Geotectura / Axelrod-Grobman Architects / Chen Architects


photograph : Noa Magger
Porter School Building
New photos of this green building, the EcoBuilding, due to complete in the first quarter of 2014. The most exciting development is the Capsule, now suspended high over the Atrium (entrance of the building), which serves as a focal point of the building and the EcoWall, which includes a thermal-solar tubes system for energy production.
Glasgow Architecture News, Scotland – Whistleblowers in Scotland are Ignored


image from architects
Standards Commissioner's Flawed Report Signals Loss of 'Checks and Balances' in Scottish Public Life. The Royal Incorporation of Architects in Scotland (RIAS) is taking the unusual step of issuing this press notice to highlight significant failings by the Commissioner for Ethical Standards in Public Life in Scotland in his recently published report on the George Square Competition, an architecture contest that was won by John McAslan + Partners only for the architects to find out within minutes of winning that the competition had been abandoned.
Denton Corker Marshall Architects news
Denton Corker Marshall wins Best Bar Design, Australia


photo : Itsuka Studio
Denton Corker Marshall has been awarded Best Bar Design at the 2013 Eat-Drink-Design Awards for Hihou, announced in Melbourne. The architecture practice also received a high commendation for Nama Nama in the Best Café Design category. According to the awards jury, "Hihou is a poised and dramatic exercise in spatial experiences…The clarity, control and embedded nature of every move and moment at Hihou create a memorable hybrid of contemporary East-West hospitality and a Zen-like haven in the heart of the city."
Blåvand Bunker Museum, Jutland, Denmark
Design: BIG, architects


image : BIG
Bjarke Ingels: "Contrary to the existing closed concrete lump, the new museum will, in its architecture, function as an open heart integrated into the landscape. The museum is in every way the opposite of the militant history with its more closed, dark and heavy features. Organized around an open central square, the galleries allow much light and will give magnificent views to the surrounding countryside. The bunker is a war machine without holes for doors and windows and rejects all humanity. In contrast, the museum is integrated into the landscape and invites visitors inside."
Lajeunesse Residence, Montréal, Quebec, Canada
Design: NatureHumaine


photo : Adrien Williams
This house renovation project combined two existing apartments into a single family house on two levels. The Client's request was for the architects create something modern and bright. Due to the noisy street at the front of the house, the main living spaces were placed at the back facing north creating the challenge of bringing direct sunlight into these spaces. A double height lightwell topped with a skylight, aids in bringing light to the center of the house.
Maggie's Cancer Caring Centre, Newcastle, England
Design: Edward Cullinan Architects ; Lighting design: Speirs + Major


photograph : James Newton
Maggies Cancer Caring Centres are for anyone affected by cancer. They are drop-in centres where people, including patients, friends and family can get the comprehensive support they need to help them to live with, through and beyond cancer. Of the fourteen centres across the UK, the most recent – designed by the Cullinan Studio – opened in May 2013 in Newcastle, a short walk from the Northern Centre for Cancer Care (NCCC) at Freeman Hospital.
Ruch Chorzow Stadium, Poland
Design: Andrea Maffei Architects s.r.l. Milano


image from architects
The large roof which is supported by thin steel columns filled with concrete, lies on the project area according to an organic form, which encompasses the area of the stadium, and that laps the car parks to the north and east, thus providing protection to users find themselves protected from bad weather. The roof is made of reinforced concrete, and is entirely painted white, and perfectly smooth on the bottom, while the upper part is characterized by the necessary inclinations useful for the drainage of rainwater, which occurs inside the same pillars.
E-House, Bodrum, south west Turkey
Design: ACE Architecture


photo from architects
The near surrounding environment has low density private housing typology with 2 storey summer villas with gardens. The plot area has an 5,000 sqm with a steep slope, in other words, there is 25 m difference in the site itself. The main design element is the huge rock which is visible from each angle, covering the one third of the site.
Parramatta Towers Competition, western Sydney, New South Wales, Australia
Design entry: Esan Rahmani & Raymond Ng


image from architects
This is an entry to the architectural design competition for Stages 5 and 6 of the Parramatta Square Precinct development, Sydney. The council invited architects to submit visionary ideas for two large commercial towers in the heart of Parramatta City Centre. The council undertook this architectural competition in a two-stage process.
Taiwan Architecture Awards 2013 : Buildings + Architects – Winners


photograph courtesy of Artech Architects
The Water-Moon Monastery building by Artech Architects has won the First Prize of the 2013 Taiwan Architecture Awards. Water-Moon Monastery was established by the commission of the past Buddhist Master Sheng Yen, the founder of the Dharma Drum Mountain Buddhist Association. All the selection panelists agreed that in Taiwan it is almost an impossible task to design a religious institution without iconic forms and abundant symbolic objects, and the Water-Moon Monastery has achieved it.
World's Most Colourful High Rises


photo © Jaume Castañé
High-rises don't have to get lost in the gray concrete jungle: some are a real riot of colour, with vivid facades in scarlet, turquoise or canary yellow – or even combining all the colors of the rainbow. Facades such as these break the drabness of so many concrete tower blocks, and their creative designs stimulate the imagination. A list of the world's most colorful high-rises has now been compiled by Emporis.
Platform of Arts And Creativity Guimarães
'Golden Weightlessness' – article for e-architect by Carlos M Teixeira, Brasil


photograph : Joao Morgado
The European Copper in Architecture Awards, given to the best built works in copper, this year went to the Platform of Arts and Creativity in Guimarães, Portugal. Designed by Pitágoras Aquitectos, it is a building of elegant, cantilevered golden boxes right in this town's center which mixes creative labs, workshops, and the recovering of the existing building on the eastern side of the plot — each of them functioning independently and simultaneously, creating different accesses to each of the various services and support areas.
Vendsyssel Theatre and Experience Centre, Hjørring, Jutland, Denmark
Design: schmidt hammer lassen architects


image from architects
As part of a team, schmidt hammer lassen architects has won the competition to design Vendsyssel Theatre and Experience Centre in Hjørring, Denmark. With this 4,200 square metre building, Hjørring gains a vibrant cultural hub in which to feature the city's various cultural activities. The winning design was submitted by a team including schmidt hammer lassen architects, Arkitektfirmaet Finn Østergaard, Brix & Kamp, ALECTIA, Gade & Mortensen Akustik, AIX Arkitekter, Filippa Berglund scenography, and LIW Planning.
The Couch, Tennisclub IJburg, Amsterdam, The Netherlands
Architects: MVRDV


image by architects
The Couch is a new club house for a young tennis club. Inside the building, the concrete construction is clad with fsc-certified wood, with the outside fully sealed with an epdm polymer hotspray in the same colour and texture as the clay tennis courts.
Golden State Warriors Arena, San Francisco, California, USA
Design: Snøhetta + AECOM


image from architect
New Plan Increases Waterfront Open Space To Nearly Eight Acres; Includes Parks, Plazas, Expanded Public Space
On the third anniversary of the team's "Lacob-Guber Era," the Golden State Warriors released an updated design of its proposed sports and entertainment pavilion on the San Francisco waterfront. Today, the site is a dilapidated 13-acre pier that's falling into the Bay. The Warriors would restore the crumbling pier, build a new event pavilion, and create nearly eight acres of new public open space on the waterfront – the equivalent of three new Union Squares.
Suzhou Buildings, eastern China – new photos online
Design: BDP, architects


photograph © Marco Jacobs
The first raft of BDP designed projects in China is now starting to complete with two civic projects in Suzhou, one of the country's most visited cities. The Suzhou Planning and Exhibition Hall building (above) is an 8,000 sqm exhibition facility within the Science and Technology Smart City. The project showcases past, present and future developments of Suzhou District and sits on the edge of a new central parkland area, with great views of the surrounding landscape and hills. It houses a 1,000 sqm model of the new district, 3D viewing gallery, interactive displays, conference facilities and multi-purpose exhibition halls.
La Vitrine Culturelle, St-Catherine / St-Laurent, Quartier des spectacles, Montreal, Quebec, Canada
Design: Moment Factory


photograph from Moment Factory
The audacious architecture of 2#22 – brainchild of Société de Développement Angus with Aedifica and Gilles Huot – inspired the creative team at Moment Factory to complement the building's strong gesture. Like a real urban theater, the building will be animated 24 hours a day, 365 days a year days a year, and has been rendered versatile enough to accommodate all of the various kinds of cultural programming that will emerge over the years.
Wanda Harbin Indoor Ski Resort, north east China
Design: Patel Architecture Inc. + GDF Design associates


picture from architect
Harbin, which is originally a Manchu word meaning "a place for drying fishing nets", grew from a small rural settlement on the Songhua River to become one of the largest cities in the northeast. It is known for its bitterly cold winters and is often called the "Ice City." Harbin is notable for its beautiful ice sculptures in winter.
EXPO-2017 in Astana, Kazakhstan
Design: Adrian Smith + Gordon Gill Architecture


image © Adrian Smith + Gordon Gill Architecture
Adrian Smith + Gordon Gill Architecture (AS+GG) is pleased to announce that it has won a major design competition for EXPO-2017 in Astana, Kazakhstan. AS+GG's design was selected as the winner of the international competition that featured 105 entries from all over the world including Coop Himmelb(l)au, Zaha Hadid Architects, GMP International, Massimiliano, Studio Pei-Zhu, UNStudio, Snohetta, HOK, Isozaki, Aoki & Associates, and Safdie Architects.
Qingdao Culture and Art Center, China
Design: Steven Holl Architects


picture : Steven Holl Architects
Steven Holl Architects won this major invited architecture competition by beating OMA and Zaha Hadid Architects. The winning design for the new Culture and Art Center begins with a connection to Qingdao. The linear form of the Jiaozhou Bay Bridge – the world's longest bridge over water – is carried into the large site, in the form of a 'Light Loop', which contains gallery spaces and connects all aspects of the landscape and public spaces. The raised 'Light Loop' allows maximum porosity and movement across the site, and permits natural sound bound breezes that blow in off the ocean to flow across the site.
The Tales Pavilion Building, Beijing, China
Design: Luca Nichetto Design Studio, Architects


photograph : Jonathan Leijonhufvud
This building is located in the heart of the Beijing Lido Garden. It is clad with brass tubes with large bronze-framed rectilinear windows. The goal of the Tales Pavilion is to establish itself as a design stage of international significance. The pavilion will become a dynamic and vibrant new complex for excellence in design.
St. Elizabeths East Gateway Pavilion, Washington DC – building news
Design: Davis Brody Bond Architects and Planners


photo © Eric Taylor, EricTaylorPhoto.com
The St. Elizabeths East Gateway Pavilion opened this week. The pavilion is now known as G8WAY DC. This new building is the first step in the city's master plan to transform the 180-acre Saint Elizabeths East campus into a mixed-use development. The 16,300 sqft open air structure will serve as a location for retail and food vendors as well as community and cultural events.
Shanghai West Bund Biennial Pavilions, China
Design: schmidt hammer lassen architects


photo : Adam Mørk
Buildings by this Danish architects office include the ephemeral art installation pavilion, 'The Cloud', and a series of Corten pavilions containing support facilities – a café, a gallery and a bookshop. The pavilions site on the waterfront beside an industrial crane.
Clifftop House Maui, Hawaii, USA – added
Design: dekleva gregorič arhitekti


photo © Cristobal Palma
This house is dug into the ridge of an escarpement on the windswept north coast of the island. The 'Roof house' is for a windsurf sail designer who had moved from Europe.
Barneveld Noord Railway Station, The Netherlands
Design: NL Architects


photo : Marcel van der Burg
I find projects by this architect studio refreshing: here is yet another building that pushes the well known Dutch abilities in lateral thinking. It is a temporary building, made of containers. You wonder what the tower is for on a small station in the middle of the countryside? It is for the toilet, yes 12m of tower for a toilet! Ok at its top it also contains a clock and a wind vane.
gmp – von Gerkan, Marg & Partners architects news
Awards for three stadiums by gmp : Two gold and one bronze at the IOC/IAKS Awards


photo © Marcus Bredt
Three stadium buildings by architects von Gerkan, Marg and Partners (gmp) received the most important international architectural awards for sports and leisure buildings. At this year's IOC/IAKS Awards, the Bao'An Stadium in Shenzhen, China, received a gold medal in the "Major outdoor stadiums" category. The Shanghai Oriental Sports Center in China won another gold in the "Pools and wellness facilities" category. And the Warsaw National Stadium in Poland received the bronze medal in the "Major outdoor stadiums" category.
Underground Architecture


photo : Luca Santiago Mora
'Scooped out and invisible' Article by Dimple Soni for e-architect"In Denmark, the new museum architecture cruises out of sight, implanted into the turf….The Danish Maritime Museum has drifted from Castle to Dock. After decades of extensive and elevated stay in the glamorous Konborg Castle, the museum, with its revived display and exhibits, now lie low, behind the sinewy walls of historic dock."
Miesian Architecture
Architectural article by James Khamsi for e-architect


photo of James Khamsi
"Miesian" is a term that architectural critics trot out when presented with a project that involves strict orthogonality, grids and rectangular form. In its proper usage, it connotes the mystical transformation of the generic and efficient into the beautiful and transcendent. To be "Miesian" is to be serious and seriously architectural. It should be a badge that is awarded sparingly…
JDS Architects at Architecture Week of Brussels


Isbjerget photo from architects
Julien De Smedt takes part in the first Architecture Week of Brussels.
JDS is involved in the LOST & FOUND Exhibition presenting their competition proposals in Brussels for the Square de L'accueil, the Rue de la Loi, the BE buidlings, Tour & Taxis and the Justice Palace.
RIFF 2013 Architecture Expo Conference news
a-lab architects to present the Statoil project


photo © a-lab.no
At the RIFF International Architecture Expo Conference 2013 in November architects Geir Haaversen and Odd Klev, two of the founders of a-lab architecture studio, will present the winner of the World Architecture Festival from Singapore in the Office category.
Perot Museum of Nature & Science, Dallas, USA – new photos
Design: Morphosis


photograph © Kenneth Johansson Photography
The building, designed by Pritzker Prize Laureate Thom Mayne and his architectural firm, Morphosis. The 180,000-sqft structure is 170 feet tall, equivalent to approximately 14 stories high. The overall building mass is conceived as a large cube floating over the site's landscaped plinth.
Sancaklar Mosque, Turkey : WAF Awards 2013 Completed Building Religion winner
Design: EAA – Emre Arolat Architects


photo from architects
This powerful, heavy building "aims to address the fundamental issues of designing a mosque by distancing itself from the current architectural discussions based on form and focusing solely on the essence of religious space", according to its architects.
Zhengzhou Greenland Plaza, China
Design: SOM with ECADI


photo SOM © Si-ye Zhang
This tower is the tallest building in the central Chinese city of Zhengzhou. The building contains offices and a 435-room hotel.
Toronto Architecture Walking Tours, Ontario, Canada – launched by e-architect


photo © Tom Arban Photography Inc.
Major buildings in the largest city in Canada include the L Tower (proposed) and the Royal Ontario Museum, both designed by architect Daniel Libeskind. Other significant architects with work in the city include Snøhetta, Diamond Schmitt Architects and Hariri Pontarini Architects. This architecture walking tour is our 61st city in the world.
Architecture News September 2013
The Hydro, Glasgow, Scotland – new photos
Design: Foster + Partners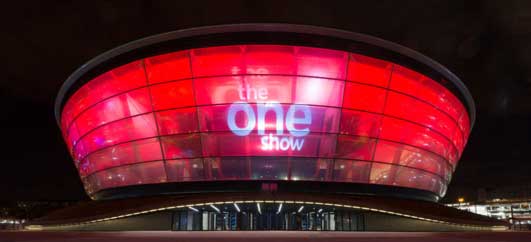 image © Foster + Partners
Designed by world-renowned architects Foster + Partners, The SSE Hydro has a seated capacity of 12,000. It will form a major boost to both the Glasgow economy and the city's stature. The first purpose-built concert venue of its scale, it will play host to around 140 events each year, including national and international artists and bands as well as being a venue for major comedy stars and sporting events.
National Library of Sejong City, Korea
Design: Samoo Architects & Engineers


photo : Giovanni Zanghi
Planned to be the major resource & support facility to the newly relocated central government complex, the library will be a fundamental infrastructure for the government as well as the local citizens. Inside the library, an expansive open space with a splendid view of the lake provides an ultimate atmosphere for library users while a central pedestrian plaza forms an open space welcoming visitors inside the building.
University of Iowa Visual Arts Building, USA
Design: Steven Holl Architects / BNIM


picture : Steven Holl Architects
The new Visual Arts Building relocates and expands educational space from the original 1936 arts building, which was heavily damaged during a flood of the University of Iowa campus in June 2008. The new building will be located directly adjacent to and northwest of Art Building West, which was designed by Steven Holl Architects and has received numerous awards since its opening in 2006.
Serpentine Sackler Gallery, London, UK – more photos + drawings now online
Design: Zaha Hadid Architects


photograph courtesy of Luke Hayes
The extension contains a generous, open social space that we expect to enliven the Serpentine Sackler Gallery as a new cultural and culinary destination. The extension has been designed to complement the calm and solid classical building with a light, transparent, dynamic and distinctly contemporary space of the 21st century. The synthesis of old and new is thus a synthesis of contrasts. The new extension feels ephemeral, like a temporary structure, although it is a fully functional permanent building.
The Turbulences FRAC Centre, Orléans, France
Design: Jakob+MacFarlane Architectes


photo © Jakob + MacFarlane, photographie : N. Borel
The Regional Fund for Contemporary Art in the Centre region (FRAC Centre) recently opened in a new location perfectly in tune with its missions and vocation: the diffusion of contemporary art and architecture. The dynamic development of the architectural extension concept from architects Jakob + MacFarlane, gave the new venue its name: The Turbulences.
LEAF Awards, London – architecture award winners news


photo from architects
These international architecture awards honour the architects designing the buildings and solutions that are setting the benchmark in the global architectural community. They are open to all individuals and organisations that have made an outstanding contribution to the world of architecture.
Architectural News – August 2013 : Global Building at a glance
Aga Khan Award for Architecture Prize – winners news
Architectural News – July 2013 : Global Building at a glance
Harpa Reykjavik Concert Hall, Iceland wins Mies van der Rohe Awards 2013
Design: Henning Larsen Architects with Batteriið Architects + Olafur Eliasson


photograph : Nic Lehoux
Wiel Arets, Chair of the Jury, said: "The iconic and transparent porous 'quasi brick' appears as an ever-changing play of coloured light, promoting a dialogue between the city of Reykjavik and the building's interior life."
Danish Bridge Designs : Bridge + Ramp Designs
With the building of Quay Bridge, Copenhagen acquired a new bridge over the harbour for the first time in fifty years.
Danish Architecture Centre Exhibition, Copenhagen, Denmark : New Docklands Architecture
A new exhibition at the Danish Architecture Centre takes visitors on a journey through the history of Copenhagen's harbour and on into its future.
Architectural News – June 2013 : Global Building at a glance
Architecture of 2012 – update
critics select their key buildings + designs


image : OMA
Buildings of 2012
e-architect have selected some key buildings


photo from architects
Residential-Architecture in Japan
Article by architect Carlos M Teixeira


photo : Ken'ichi Suzuki
Venice Biennale Review, Italy
Article by Gustavo Pernía


photo from Nordic Pavilion
We feature selected buildings below that have recently appeared on the architecture news. A wider selection can be found in the monthly architecture news pages. We try to choose major buildings / designs that have created the most interest for our readers across the globe.
Architecture News – current developments from across the globe
World Architectural News
Buildings of 2013 : major architectural developments in the year
Office Architecture – offices buildings from around the world
Key Architectural Links
Zaha Hadid
Herzog de Meuron
Frank Gehry
Regional Architectural News
Scottish Architectural News
Glasgow Building News
Edinburgh Building News
Buildings for the World Architectural News page welcome