World Building News, Architecture across the Globe, Architectural Designs, Projects
Architecture News
- 18,000 pages + 271,000 architectural images
- cross-referenced resource : building / architect / country / city / type
- architectural news online 16 hours a day, 7 days a week
- google map towards base of page where relevant (note these sometimes default)
e-architect Editor Adrian Welch handpicks key architecture news to post on facebook + twitter
Architecture News
Key Building News from around the world – Headlines
e-architect news
e-architect has recorded 2 million hits in one day for the first time this week – 21 Mar 2014. Our twitter followers has just passed 50,000 and our facebook followers now number more than 160,000. In total we have over 260,000 followers across our various social media channels. Thank you for your support and interest as we grow our global architecture resource!
New Istanbul Airport Building


image from architects
New Istanbul Airport Building – 15 Apr 2014
The Istanbul Grand Airport will be a modern and highly functional, with a unique sense of place. The architectural design of the terminal is closely linked to the area's unique character and will act as a stunning gateway to Istanbul and Turkey. In spite of its size, the terminal building is conceived as one that sits calmly in its context, with a clear horizontal expression.
Red Road Flats Demolition News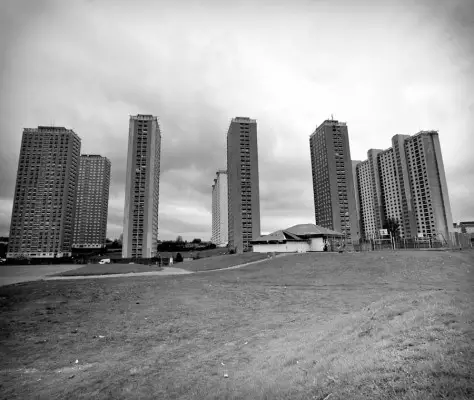 photo © Tom Manley
Red Road Flats Demolition – 13 Apr 2014
Commonwealth Games organisers have dropped the demolition of the Red Road flats from the Glasgow 2014 opening ceremony, report the BBC today.
Five of the blocks were to be brought down at the start of the Games in July. The plan proved controversial, with an online petition against the demolition gathering more than 17,000 signatures.
Glasgow 2014 said opinions being expressed about "safety and security" meant the destruction of the flats would not now feature in the opening.
Casino de Montréal, Quebec, Canada
Design: Menkès Shooner Dagenais Letourneux Architects / Provencher Roy Architects


Casino de MontrĂ©al Building – 4 Apr 2014
The consortium of Menkès Shooner Dagenais Letourneux Architects / Provencher Roy Architects have signed an important retrofit project of the Casino de Montréal.
Space Forward: Ideas Competition
The Lightstone Group Architecture Contest – 1407 Broadway, NYC, USA
Manhattan Architecture Competition – 4 Apr 2014
$14,000 goes to jury prize winner with $3,000 prize for 3 runners-up
1407 Broadway, a premier building in Times Square South undergoing a dramatic transformation with extensive building renovations and an image repositioning, has launched a contest inviting designers to create the ideal work environment – with the winner receiving $14,000.
The Lightstone Group, owners of the building, and its branding partner CO OP, launched the competition to foster an environment that sparks creativity and collaboration through the building's new office spaces, amenities and creative tenant mix.
House of Music


photograph © Hélène Mogensen de Monléon
e-architect attended the opening event for House of Music in Aalborg, Denmark, designed by COOP HIMMELB(L)AU, and talked with leading architect Wolf Prix about the building – new photos + review. 30 Mar
City of Dreams
Design: Zaha Hadid Architects


image courtesy Zaha Hadid Architects
City of Dreams Hotel Tower – 29 Mar 2014
The fifth hotel tower at City of Dreams combines dramatic public spaces and generous guest rooms with innovative engineering and formal cohesion. The rectangular outline of the site is extruded as a monolithic block with a series of voids which carve through the its centre of the tower, merging traditional architectural elements of roof, wall and ceiling to create a sculptural form that defines many of the hotel's internal public spaces.
Barrel House Tavern in Sausalito
Design: CCS Architecture


photo : Paul Dyer, from CCS Architecture
Barrel House Tavern – 22 Mar 2014
CCS Architecture receives a IIDA Northern California Chapter Honor Award for this building. Located on one of the most scenic waterfront lots in Sausalito, the restaurant features an enormous Carrera marble bar, with breathtaking views of the Bay. The building itself has a rich history: built in the 1900's, the space was once a ferry terminal, before the opening of the Golden Gate Bridge.
551W21 New York by Foster + Partners


photo: © Michael Moran/OTTO
551W21 Building – 20 Mar 2014
Scott Resnick and Brown Harris Stevens open the sales office for 551W21, the new 19-story luxury condominium in West Chelsea by architects Foster + Partners. Designed by Lee Mindel of Shelton, Mindel & Associates, the sales office meticulously presents the signature interior elements of Foster + Partners' building design.
Alberto Campo Baeza News


photograph from Estudio Arquitectura Campo Baeza
The architect Alberto Campo Baeza has been elected as a member of the San Fernando Academy of Fine Arts.
Alberto Campo Baeza has been Professor of Design Projects at the ETSAM School of Architecture in Madrid since 1986 and is an architect of great renown, both in his native Spain and worldwide. He has been visiting professor at the ETH in Zurich, the EPFL in Lausanne and at the Penn University School of Architecture in Philadelphia, as well as at numerous other schools of architecture around the world.
Sustainable Floating Residence


The Floating house was designed for French developer H2ORIZON, that specialize in construction of floating structures, by Singapore-based architect Dymitr Malcew.
The main goal of the project was to design a house that impacts surroundings in a most minimal way, but at the same time offers flexibility and out of the box living experience.

Architectural News : selected buildings from around the world
shown recently on the architectural news page
Recent Architecture News
Architecture News
2014 Melbourne Food and Wine Festival
New images of The Immersery: Festival Kitchen, Bar and Raingarden


photograph : Bonnie Savage
Melbourne Food and Wine Festival Hub – 4 Mar 2014
A cloud-like structure suspended above a floating bar and open-kitchen restaurant on the banks of Melbourne's Yarra River form the spectacular centrepiece of the 2014 Melbourne Food and Wine Festival.
Jan Shrem and Maria Manetti Shrem Museum of Art, Davis, California, USA
Design: SO – IL


Jan Shrem and Maria Manetti Shrem Museum of Art – Mar 1 2014
New York-based architectural design firm SO – IL announces the groundbreaking on March 1, 2014 for the new Jan Shrem and Maria Manetti Shrem Museum of Art at the University of California, Davis in Davis, CA. Designed by SO – IL, in a design-build partnership with Bohlin Cywinski Jackson and Whiting-Turner, the design advances the fundamental notion of the art museum in the 21st century.
Oceanfront House in Crimea, Ukraine
Design: Robin Monotti Architects


photo : Ioana Marinescu
Seafront House in Crimea – 1 Mar 2014
RMA won 1st prize in the competition for the best interior design project in the modern style in Ukraine 2013 with their project Yacht House. The architectural competition was organized by the Dom i Interier magazine and received 965 entries.
A House Vaucluse, Sydney, New South Wales, Australia
Design: Bruce Stafford Architects


photo © Karl Beath
House in Vaucluse – 19 Feb 2014
This home is situated on a narrow site with waterfront at one short end and parkland along the long northerly side. The prime design generator was to frame the various view opportunities from the moment one arrived off the street, by creating a range of different spaces, all connected to a central vertical and horizontal circulation spine on the long axis of the site. This resulted in a series of courtyards and volumetric experiences until arriving at the edge of the infinity pool.
House LS, Belgium
Design:Â dmvA


photo © Frederik Vercruysse
Wemmel Residence – 19 Feb 2014
The municipality of Wemmel, situated on the outskirts of Brussels, is well known for its green areas with their monumental villas of the upper class. After a search of several years, the principal saw a house situated in one of those quarters. It was not his dream house but because of its marvellous location and the south orientated garden, he decided to buy it.
DC Tower 1
Design: Dominique Perrault with Hoffmann and Janz


photo © Michael Nagl
DC Tower Vienna – 11 Feb 2014
With its height of 250 meters and 60 floors the DC Tower 1 is the tallest building in Austria. The renowned French architect Dominique Perrault is responsible for the spectacular architecture. The appearance of the DC Tower 1 is mainly characterized by its extraordinary "folded" facade and slim structure that results from the height of 250m and a width of only average 28m and a length of 59m.
Residential Building in Berlin by Frank Gehry
Design: Gehry Partners, LLP


image : Gehry Partners, LLP
Residential Building in Berlin by Frank Gehry – 10 Feb 2014
A design by Frank Gehry, the architect responsible for the Guggenheim Museum in the Spanish city of Bilbao, will be used for a building on Berlin's Alexanderplatz that will be Germany's tallest apartment tower, reports Bloomberg. The 39-floor property will have a height of 150 m (490 ft) and contain about 300 apartments, a hotel and a spa, Hines said today in a statement.
Madrona House
Design: CCS ARCHITECTURE


photograph : Aaron Leitz; Seattle, WA
Madrona House in Seattle – 8 Feb 2014
This house was designed as a second home for a Bay Area couple as a summer retreat to spend the warm summer months away from the fog in San Francisco. Built on a steep slope and a narrow lot, this 4000 square foot home is spread over 3 floors, with the master, guest and kids bedroom on the ground floor, and living spaces on the upper floor to take advantage of the views.
Goodwood Residence in Singapore
Design: WOHA


photo : Patrick Bingham-Hall
Goodwood Residence Singapore – 1 Feb 2014
Set amidst an enclave of black and white houses just off the prime Orchard/Scotts Road area, and against a verdant 20-hectare backdrop of greenery, the 210-unit Goodwood Residence is conceived on a macro scale as a breathing space – a rarity in high density urbanised Singapore – and an extension of the Goodwood Hill tree conservation area that it shares a boundary of 150m with. Articulated as two 12-storey L-shaped blocks, the 2.5-hectare development 'dialogues with the hill'.
Reforma Towers MĂ©xico City
Design: Richard Meier & Partners Architects


image : Richard Meier & Partners Architects
Reforma Towers
Richard Meier & Partners is proud to announce their new project in Mexico City. The new Reforma Towers will become a dynamic mixed-use development composed of two towers with offices, a hotel, retail space, restaurants and a fitness center.
Honeycomb Building in the Bahamas
Design: BIG + HKS + MDA


image : BIG
Honeycomb Building Bahamas – 27 Jan 2014
BIG + HKS + MDA have unveiled the design for the new Honeycomb building and its adjacent public plaza in The Bahamas – a 175,000 ft² (ca. 16,000 m²) residential building with a private pool on each balcony overlooking the marina.
World Architecture Festival news : World Building of the Year Award
Zaha Hadid building news : Heydar Aliyev Centre, Baku, Azerbaijan – photos
Recent Architecture Articles
Original content on e-architect – Recent Archive:
Low-cost Housing for the Elderly


image © Herzog & de Meuron, Basel, 2008
13 Oct 2013 by Joel Solkoff
Joel Solkoff looks at housing access issues, from the low proportion of housing that is wheel chair accessible to the requirement of elderly individuals to spiritually uplifting laces such as museums.
Morgan Library and Museum Disability Architecture
re Disability Access in Renzo Piano's J.P. Morgan Library and Museum Building, New York City, USA


photo © Renzo Piano Building Workshop. Courtesy Gagosian Gallery
24 Aug 2013 by Joel Solkoff
When I began this column I wrote: "The future of architecture is rapidly requiring you to redesign the world to meet the requirements of the largest generation in world history. Ours is an aging population in the process of developing disabilities–but a generation with the determination, education, political clout, and for many the wealth to live independently none-the-less."
Architecture Articles for e-architect


photo by Michel Denancé, provided by permission of the Morgan Library and Museum
Architectural News – Archive
Architecture Walking Tours


photo © Joe Lekas
Sustainable Architecture news : Carbon Emissions Rise – radical plan required
Architecture
Architecture Studio Profile : Norton Ellis Architects
"After just a few weeks listed on e-architect we were contacted by a new client for a residential refurbishment. The project suits us perfectly, I was amazed how the website created a new project so soon for us. I'm delighted that we signed up with e-architect, which we should have done sooner." Robert Ellis, architect
We feature selected buildings below that have recently appeared on the Architecture News. A wider selection of new buildings can be found in the monthly architectural news pages. We try to choose major buildings / designs that have created the most interest for our readers. Buildings can be located anywhere in the world and don't have to be contemporary – major building refurbishments and architectural redevelopments are also welcome.
Buildings for the World Architecture News page welcome: info(at)e-architect.co.uk
Global Architecture News – page