Foster + Partners Architects, Buildings, Projects, Office, Photos, Architecture Studio, News
Foster + Partners, Architects
Contemporary Architectural Practice in London: Major Design Office in England, UK
25 Nov 2016
Foster + Partners News
Foster + Partners News, chronological:
Museo del Prado, Madrid, Spain
Foster + Partners and Rubio Arquitectura win international Prado Museum competition


image courtesy architects
Museo del Prado Architecture Competition
8 Sep 2016
Ferring Pharmaceuticals A/S Headquarters in Kastrup, Copenhagen, Denmark


image courtesy architects
Ferring Pharmaceuticals A/S Headquarters
12 Aug + 6 Jun 2016
Red Hook Complex in Brooklyn, NY, USA


image courtesy architects
Red Hook Complex Brooklyn
New image of this design. The building features flexible, open floorplates of up to 100,000-square-feet (9,300 m2), that are ideal for new, innovative ways of working that characterise the burgeoning creative and tech sector in New York.
5 Apr 2016
Tribute to Dame Zaha Hadid from Norman Foster in Shanghai:
"I am devastated by the news of the loss of Zaha Hadid and cannot comprehend the enormity of her passing away. I became very close to her as a friend and colleague in parallel with my deep respect for her as an architect of immense stature and global significance.
She was one of the very few architects as friends who was invited to my 80th Birthday Party in London last year. By a strange coincidence some days ago I received an email from one of her clients – someone she had designed a home for. With great pride he sent me about twenty pairs of images. Each pair showed the visualisation that Zaha presented and the reality as finally built. It was a beautiful juxtaposition of what Zaha promised and what she delivered. I was so looking forward to sharing with her these intimate insights. Tragically that will never happen.
I think it was Zaha's triumph to go beyond the beautiful graphic visions of her sculptural approach to architecture into reality that so upset some of her critics. She was an individual of great courage, conviction and tenacity. It is rare to find these qualities tied to a free creative spirit. That is why her loss is so profound and her example so inspirational. And, besides, she was my dear friend."
Whiteleys Building Refurbishment, London, UK
Renewal Design: Foster + Partners, Architects


image : Whiteleys Development
Whiteleys Building Refurbishment – 4 Apr 2016
8 Mar 2016
3 Sutton Place Tower on the East Side, New York City, NY, USA


image courtesy Foster + Partners
3 Sutton Place Skyscraper NYC
A Manhattan judge has struck down Bauhouse Group's request for an injunction against Gamma Real Estate and its planned foreclosure auction of Bauhouse's 3 Sutton Place condo project.
5 Feb 2016
Norton Set to Break Ground on Transformative Expansion by Foster + Partners, West Palm Beach, Florida, USA


image courtesy of Foster + Partners
New Norton Museum of Art Building by Foster + Partners
Architecture, Urbanism, Innovation, Tokyo, Japan – Foster + Partners Exhibition
Tokyo, 18th January 2016 – The large-scale exhibition "Architecture, Urbanism, Innovation", showcases more than 50 projects completed by the architecture practice over the years.
Dates: until 14th February 2016
Location: Mori Art Museum
It is organized in three sections with the aim of showcasing the most significant projects among over 300 carried out by Foster + Partners architecture firm throughout its history.
The exhibited projects are organized into the following 3 sections:
– The Architectural Philosophy behind Foster+ Partners
– From Space to Environment: the Foster + Partners Design Process
– Architecture, Urbanism, Innovation: Ideas for Future Lifestyles.
The exhibition is a detailed showcase of 50 projects selected among all projects of the architecture firm completed or currently under construction, through models, videos, drawings, sketches and computer graphics.
Apple Campus 2, Cupertino, San Jose, CA, USA
Design: Foster + Partners with Arup


image from Apple
Planning permission received for this major new campus for Apple in California.
The Hydro, Glasgow, Scotland – new photos
Design: Foster + Partners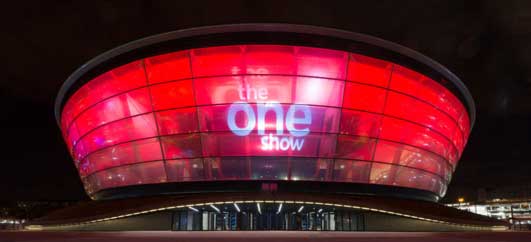 image © Foster + Partners
The SSE Hydro has a seated capacity of 12,000. It will form a major boost to both the Glasgow economy and the city's stature. The first purpose-built concert venue of its scale, it will play host to around 140 events each year, including national and international artists and bands as well as being a venue for major comedy stars and sporting events.
'Foster + Partners: the Art of Architecture', Galeri PETRONAS, Kuala Lumpur


image from Foster + Partners
Architecure Exhibition Malaysia
Arranged around the themes of infrastructure, high-rise, urban design, history and culture – all within the context of a sustainable agenda – the works on display highlight the incredible diversity of the practice's work. Details of a number of new projects underway in Malaysia will be revealed, including Arcoris Mont'Kiara and IB Tower, a 58-storey tower in the heart of Kuala Lumpur City Centre.
Vieux Port Pavilion, Marseille, France – building news


photo : Nigel Young
Vieux Port Pavilion Marseille – 5 Mar 2013
The new events pavilion is a simple, discreet canopy of highly reflective stainless steel, 46 by 22 metres in size, open on all sides and supported by slender pillars. Its polished, mirrored surface reflects the surrounding port and tapers towards the edges, minimising its profile and reducing the structure's visual impact.
The ME Hotel, London, England
Design: Foster + Partners


photograph from architect
The ME Hotel London – 5 + 4 Mar 2013
This hotel buildings has been designed by Foster + Partners from the exterior right down to internal furnishings and fittings, rather like in a Frank Lloyd Wright house. The building completes the grand sweep of buildings of Aldwych Crescent, repairing the urban grain and restoring some glamour to the West End.
Thames Hub Airport, London, England, UK


photograph from architect
Thames Hub Airport – 4 Mar 2013
Foster + Partners to submit a proposal to the Commission for a new hub airport in the Thames Estuary. This highly controversial issue has been challenging everyone from pliticians to conservationists with key architects getting involved. Sustainability must be at the heart of any decision.
Carré d'Art-Nîmes Architecture Exhibition 'MOVING. NORMAN FOSTER ON ART'
Carré d'Art – Nîmes Museum of Contemporary Art, France


image from Foster + Partners
Carré d'Art-Nîmes Architecture Exhibition
Curators: Norman Foster ; Jean-Marc Prévost, Carré d'Art, Nîmes
Faena Aleph Residences, Buenos Aires, Argentina


photo : Nigel Young_Foster + Partners
Foster + Partners – latest building – 5 Feb 2013
Foster + Partners has completed its first project in Latin America with the opening of the Faena Aleph Residences in Buenos Aires, Argentina – part of the reinvention of the former docks of Puerto Madero as a dynamic new urban quarter. Drawing on local architectural traditions, its apartments feature vaulted living spaces and deep, sheltered terraces that exploit the wonderful local climate and maximise views towards the city and Rio de la Plata.
Foster + Partners Ranks 10th in World Architecture 100 Survey
World Architecture 100 Survey 10th ranking – 29 Jan 2013
Foster + Partners has been ranked the world's tenth largest architecture practice in the World Architecture 100 (WA100) survey.
Porcelanosa Flagship New York Showroom, NYC, USA


image : Foster + Partners
Porcelanosa New York Showroom – 18 Jan 2013
Design revealed for new flagship showroom in the Commodore Criterion building in Midtown. The firm chose Foster + Partners to refurbish the interiors of the six-storey building northwest of Madison Square Park at 5th Avenue and Broadway. This development is due to be completed in early 2014.
Foster + Partners Architecture
Foster + Partners – main page : current architecture news (this page)
Fosters + Partners Architects – Key Buildings List
Foster + Partners Architecture : Projects from 2011-12


picture © McLaren
Foster + Partners Designs : Projects from 2010


photo : Nigel Young / Foster + Partners
Foster + Partners Architecture Designs : Projects from 2008-09


image : Foster + Partners
Foster + Partners Buildings : Projects from pre-2008


picture from architect
Key Architecture Projects by Foster + Partners
Swiss Re, London, UK



photograph © Adrian Welch


Swiss Re Building : London skyscraper
Crystal Island, Moscow, Russia

picture : Foster + Partners
Russian tower : 450m high tower
Spaceport America, New Mexico, USA

picture : Foster + Partners
American Spaceport
Millau Viaduct, France

photo © Nick Weall
Millau Viaduct

Foster + Partners – Overview of the Practice

Lord Foster runs one of the most celebrated architect offices in the world of the last century. Not only prolific, the architects practice has consistently pushed boundaries, especially in terms of materials and technology, but also of form and building envelope.

Norman was born in Manchester in 1935. Having moved to London, and worked in Team 4, he established Foster Associates in 1967. This continued the Hi-Tec (or High-Tech) style of Team 4 with influences from Archigram. Prefabrication and modular design were clear goals with a passion for good detailing.

One of Norman Foster's key early works was the Willis Faber Dumas building (1974) in southern England. It eschewed traditional wet trades for the facade and compartmentalised space within. This design, along with the Sainsbury Centre for Visual Arts at UEA and the former Renault Distribution Centre, celebrated technology and notions of flexibility in architecture. Related architects at this time (early 1980s) included Nicholas Grimshaw, Richard Rogers and Michael Hopkins. In fact, this reaction to the doctrines of Modern architects Corb and Mies can be traced back to the late 1960s, for example Norman Foster's Reliance Controls Electronics Factory (1967).

During the Postmodern years the Foster + Partners style became a little more colourful but never strayed from technological rigour. In the 21st century – with new computer technology – forms have become more flowing, for example Beijing airport and the Swiss Re Building.

Over the years a stunning array of buildings and bridges has emerged from the Foster + Partners architects office. We selected the key designs by the practice, in chronological order below.

Major Buildings by Foster + Partners

Willis Faber & Dumas Headquarters, Ipswich, England (1974)
Sainsbury Centre, Norwich, England (1977)
Renault Distribution Centre, Swindon, England (1982)
Hong Kong & Shanghai Bank, Hong Kong (1986)
Stansted Airport Building, England (1991)
Carré d'Art, Nîmes, France (1993)
Chek Lap Kok Airport, Hong Kong (1998)
Reichstag Building, Berlin, Germany (1999)
British Museum Great Court, London, England (2001)
30 St Mary Axe – aka Swiss Re Building, London, England (2004)
Millau Viaduct, France (2004)

Comments on the selection welcome. These Foster + Partners designs aren't selected simply due to their fame – we've excluded London City Hall and the Millennium Bridge for example – but because each design signified a strong creative achievement.

Adrian Welch, e-architect Editor
More Architecture by Foster + Partners online soon
To see all listed projects on a single map please follow
this link
.
Foster + Partners Practice Information
Architecture stuido headquarterd in London, UK
Foster + Partners : London Architects
Architecture Education
Manchester University School of Architecture, England
Yale University, USA
Team 4 architects, London
with his wife, Wendy Foster + Richard Rogers & Sue Rogers
Foster Associates, London
1967-
Norman was knighted in 1990
Norman Foster : Architecture
Norman Foster award : Pritzker Prize Winner 1999
Norman Foster, architect – RIBA Gold Medal 1983 Winner
American Institute of Architects Gold Medal winner : 1994
Buildings / photos for the Norman Foster Architect page welcome
Foster + Partners Architects : page
Website: www.fosterandpartners.com